Infinix launches new affordable gaming phone in Malaysia
One of the fastest rising international smartphone brands, Infinix, has launched the all-new HOT 20, delivering enhanced features and significant performance that exude an enhanced lifestyle for users. Implemented with a 50MP Super Nightscape, upgraded MediaTek Helio G85 processor for sublime performance, immersive 6.82-inch smooth punch hole display, up to 11GB extended RAM and 128GB ROM and powered by XOS 12.0 for just RM599 and now available offline across Malaysia.
"Infinix always has the needs and desires of its fans at heart when developing new products, as we want to keep up with their ever-changing lifestyle trends. Therefore, the HOT 20 series aims to exceed expectations not only in terms of gaming, but also in terms of overall performance, and we believe that this phone will appeal to all young consumers at an affordable price,"

– Richard Tang, Country Manager for Infinix Malaysia
The HOT 20 releases today, November 4, nationwide, but will be available for purchase online through Shopee on November 11. The model is available in four colors, Sonic Black, Legend White, Tempo Blue and Fantasy Purple.
Infinix HOT 20 50MP SUPER NIGHTSCAPE Photography Contest
Infinix Malaysia is holding a photography contest to celebrate the launch of the Infinix HOT 20 and pay tribute to one of its notable features, the 50MP Super Nightscape Camera, from November 7 to December 6. In addition to being a gaming-focused brand, Infinix wants to encourage its fans to be #FastandFun and connect with their inner photographer by giving six of them a chance to win various Infinix products worth up to RM20,000. This competition will be open to all Malaysians, so stay tuned to the official Infinix Facebook page for more updates on how to win the prize.
Infinix HOT 20
The HOT 20 is powered by the MediaTek Helio G85, with two powerful Arm Cortex-A75 processors clocked at up to 2 GHz and six Cortex-A55 processors running at up to 1.8 GHz, plus a GPU with peak speeds of 1 GHz. This essentially allows the HOT 20 to have fast response times, higher frame rates, and reliable networking.
It also hosts 6GB RAM and 128GB ROM and offers expanded RAM of 6GB + 5GB (equivalent to 11GB) without any extra cost, supporting up to 11 background apps running without lag at the same time. This next-level storage capacity of up to 11GB RAM + 128GB ROM allows users to enjoy more storage for large files, games and apps.
The HOT 20 is also equipped with a full-speed connectivity enhancement gaming turbo, which includes XArena, Dar-Link 2.0 and LinkPlus 1.0.
XArena enhances graphics and motion capabilities in various game settings using enhanced game system features that improve in-game stability.
Dar-link 2.0 provides intelligent dynamic CPU and GPU management that ensures smooth and reliable performance in graphically demanding games, as well as effective temperature and power consumption control. Dar-link 2.0 also enhances image quality with brightness, contrast and saturation through AVSYNC technology for an immersive gaming experience.
LinkPlus 1.0 technology minimizes lag and reduces power consumption by intelligently distributing wireless network and data traffic.
The HOT 20's main upgrade is its 50MP camera, which gives it a significant edge over its previous generations. Featuring a 50MP Super Nightscape Camera with F1.6 large aperture,
delivers crisp snapshots with incredible levels of detail, day or night.
Taking photography a notch higher, the HOT 20 comes with Super Night mode, which enhances photo detail at night without overexposing the shot, resulting in truly stunning images when the sun is down. When using portrait mode, subjects are more prominent and photos are more layered, giving users the ability to capture their subjects in exceptional detail. In short video mode, users can take advantage of various built-in video templates that provide users the ability to easily edit and assemble videos in a flash for sharing on social media.
The HOT 20 has a massive 5000mAh battery that recharges quickly with its 18W fast charge. Power Marathon technology provides long-lasting power even after a long gaming session, giving users the extra time they need. need to connect or end their session. The 18W charger comes in the box with a Type-C fast charging cable.
HOT Infinix 20i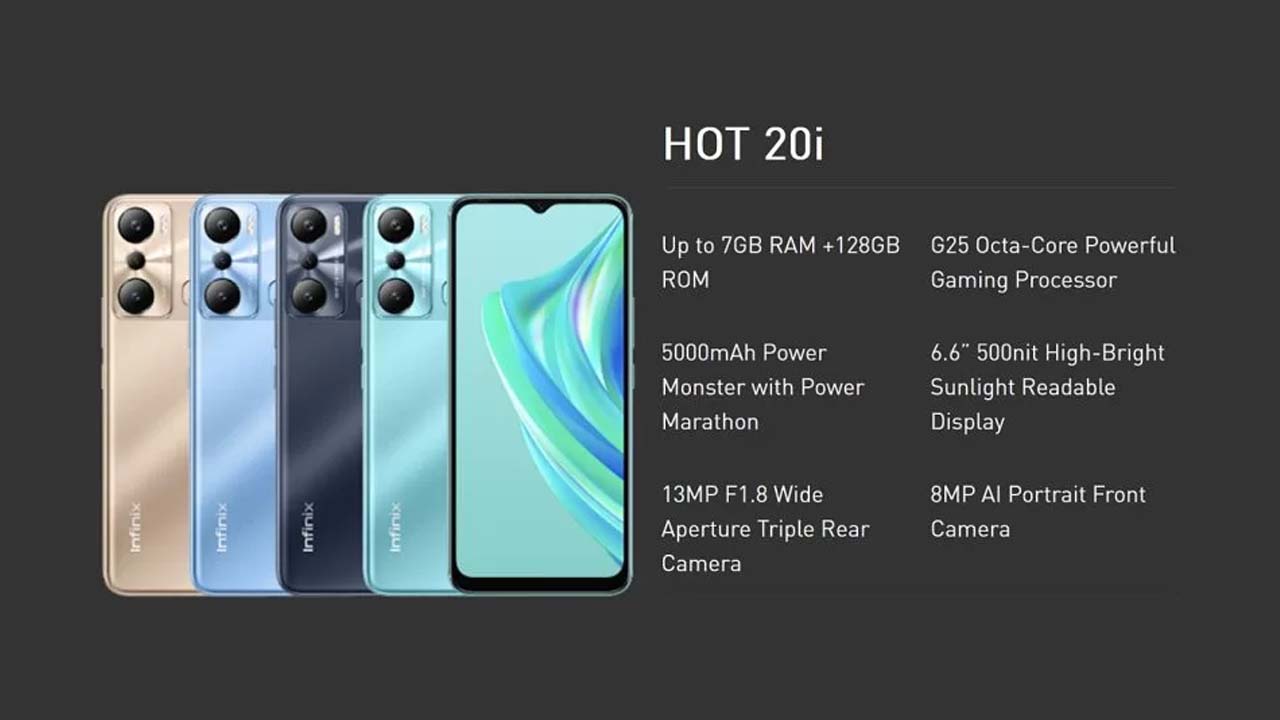 Infinix is ​​making things hotter with an additional device, the Infinix HOT 20i, also launched today in the HOT series. This device showcases its 6.6-inch high-brightness sunlight-readable display with a slim design for immersive viewing. Similar to the HOT 20, it includes a 5000mAh Power Monster battery with Power Marathon technology to enable long-lasting use. It is also equipped with a 13MP with an f/1.8 triple aperture rear camera unit and an 8MP AI Portrait front camera to meet your photography needs and capture precious moments in a stunning way. Not to mention an expansion of 4GB RAM + 128GB ROM to provide ample storage for apps, videos and images. Get all these features and more for just RM499 from all offline and online stores nationwide.
Related